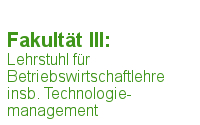 Publikationen
2019
Weber J.B., Lorenz U., (2019): Algorithmic System Design of Termofluid Systems. In: Rodrigues H. et. al(eds) EngOpt 2018 Proceedings of the 6th International Conference on Engineering Optimization. EngOpt 2018. Springer, Cam.
2018
Hartisch M., Herbst A., Lorenz U., Weber J.B. (2018): Towards Resilient Process Networks - Designing Booster Stations via Quantified Programming. Accepted: Collection of selected, peer reviewed papers from the 3rd International Conference on Uncertainty in Mechanical Engineering (ICUME 2018), November 15-16, 2018, Darmstadt, Germany.
Weber J.B., Lorenz U., (2018): Modeling Thermofluid Systems - An Approach Customized for Optimization. Accepted: Operation Research Proceedings 2018. Operation Research Proceedings (GOR Gesellschaft für Operations Research e.V.)). Springer, Cam.