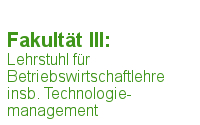 Publikationen
2019
Hartisch, M., Reintjes C., Lorenz U., (2019): Design and Optimization for Additive Manufacturing of Cellular Structures using Linear Optimization. In: Rodrigues H. et. al(eds) EngOpt 2018 Proceedings of the 6th International Conference on Engineering Optimization. EngOpt 2018. Springer, Cam.
2018
Hartisch M., Herbst A., Lorenz U., Weber J.B. (2018): Towards Resilient Process Networks - Designing Booster Stations via Quantified Programming. Accepted: Collection of selected, peer reviewed papers from the 3rd International Conference on Uncertainty in Mechanical Engineering (ICUME 2018), November 15-16, 2018, Darmstadt, Germany.
2017
M. Hartisch, Ch. Reintjes, U. Lorenz (2017): Lattice Structure Design with Linear Optimization for Additive Manufacturing as an Initial Design in the Field of Generative Design. To appear In: N. Kliewer/J.F. Ehmke/R. Borndörfer (Hrsg.), Operations Research Proceedings 2018, Selected Papers of the International Conference on Operations Research, OR2017, Berlin.
T. Ederer, M. Hartisch, U. Lorenz, T. Opfer, J. Wolf (2017): Yasol: An Open Source Solver for Quantified Mixed Interger Programs. To appear in: Advances in Computer Games 15.
2016
M.Hartisch, T. Ederer, U. Lorenz, J. Wolf (2016): Quantified Integer Programs with Polyhedral Uncertainty Set. 9th International Conference, CG 2016, June29th - July 1st, Revised Selected Papers, Leiden, Netherlands.  
2015
M. Hartisch, I. Althöfer (2015). Optimal Robot Play in Certain Chess Endgame Situations. ICGA Journal, Vol.38, No.3.
M. Hartisch (2015). Impact of Rounding during Retrograde Analysis for a Game with Chance Nodes: Karl´s Race as a Test Case. ICGA Journal, Vol. 38, No. 2.
I.Althöfer, M. Hartisch (2015). The Effect of Biasing Win Conditions. Game & Puzzle Design, Vol. 1, No. 1